Featured Dodge Challenger Members: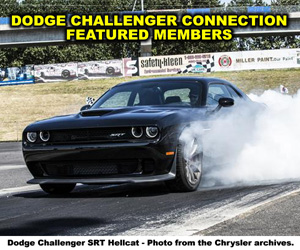 Dodge Challenger Enthusiast Sites/Pages:

Mopar Screensavers - Free Mopar screensavers featuring classic and modern Dodge Cars, including Dodge Charger, Coronet R/T, Challenger, Dart, Daytona, Superbee and more.
Member Since: July 5 2005

Mopar Works - A human edited directory and search engine featuring information and resources on the Challenger SRT, Dodge Challenger and Dodge Challenger R/T.
Member Since: December 12, 2007

Mopars Of The Month - A monthly collection of featured Chrysler, Dodge, Plymouth and Mopar related vehicles. Including hundreds of Dodge Challengers.
Member Since: May 21, 2001

Musclecar Garage - Collection of musclecars including a 1968 Super Stock Barracuda, a 1970 Dodge Charger RT 440, a 1970 Hemi Challenger and1970 Hemi Superbee pro street.
Member Since: February 27, 2006

My Dodge - Home of Dodge Car Enthusiasts. A place for Dodge car owners to show off their rides and non owners to find out more about Dodge Cars. Site includes featured Dodge Cars, Dodge Information, Dodge Photos, Links and much more.
Member Since: July 8, 2008

PantherPink.com - A site dedicated to Panther Pink and Moulin Rouge (FM3) Mopars.
Member Since: September 20, 2003

Papa Dave's 1970 440 R/T SE Challenger - This site shows the rebirth and rebuild of a 1970 dodge challenger from start to finish.
Member Since: December 9, 2009

The Third Generation Muscle Car, The Dodge Challenger - This Third generation Hemi Muscle Car has all the hardware to be the top contender, in the new muscle car field of 2010, News Info.
Member Since: December 9, 2009
Featured Dodge Challenger Members: Page 1

Page 2
The Dodge Challenger Connection was updated on: Monday, October 15 2018
Sponsored Links: