Featured Chrysler Members: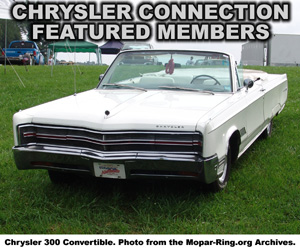 Chrysler Enthusiast Sites/Pages:

Mopar Works: Chrysler Directory - Sites and pages featuring information and resources on Chrysler Vehicles. Including 300, Cordoba, Fifth Avenue, New Yorker, PT Cruiser and more.
Member Since: August 21, 2010

Mopars Of The Month - A unique collection of Chrysler, Dodge, Plymouth and Mopar related vehicles submitted by visitors each month. Collection contains hundreds of featured Chryslers.
Member Since: May 21, 2001

Moore's MoPars - Check out the '69 340/727 Barracuda with mod interior, the '67 392 Hemi 5-speed GTX, the '03 PT Cruiser Turbo and one of the most comprehensive MoPar links pages on the 'Net.
Member Since: June 20, 2001

The Chrysler300 Site - Site explores the history of the Chrysler 300 from its illustrious beginnings, glorious midlife, ignominious death and unexpected rebirth. Includes photos, technical data and more.
Member Since: May 14, 2001

Tomi Craft - Check out Cool Cruisers in Japan. We manage PT Cruiser Country Japan, aka PTCC-JPN.
Member Since: May 14, 2001

Top 25 Chrysler Sites - The Internets Top Chrysler and Mopar related web sites. Vote for your favorite site!
Member Since: August 21, 2010

Turbine Car User - Site dedicated to the 1963 Chrysler/Ghia turbine cars and my own cars and information.
Member Since: May 13, 2001

Valiant VG Hardtop build - 1971 Valiant VG Coupe build, The car is undergoing full a restoration, with a bare metal respray in Hemi Orange.
Member Since: July 23, 2003

VG Valiant Pacer Coupe Project - Just a diary of my Vg Valiant pacer coupe restoration.
Member Since: August 21, 2010

WPC Club INC. - We are a world-wide, non-profit organization dedicated to the preservation, restoration, and enjoyment of Chrysler Products, namely Plymouth, Dodge, DeSoto, Chrysler, Imperial, Jeep, Eagle and related vehicles.
Member Since: November 16, 2007
Featured Chrysler Members: Page 1

Page 2
The Chrysler Connection was updated on: Monday, September 24 2018
Sponsored Links: