Featured Dodge And RAM Truck Members: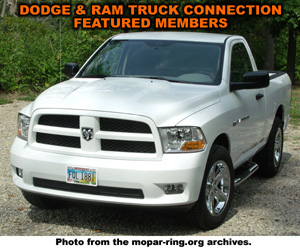 Dodge And RAM Truck Enthusiast Sites/Pages:

Rod Hall Series Dodge Trucks - Rod Hall series Dodge. com is home to the most information on the 1987 and 1990 Rod Hall series Dodge trucks.
Member Since: December 8, 2006

Site WEB de Denis Bisson / Dennis Bisson's Web page - Well... Nothing really excited. Simply the history why and how I bought it... Some pictures like the one after we came back from Mount Washington.
Member Since: February 7, 2004

The Dakota Mailing List - The DML home page.
Member Since: June 21, 2001

The Dukcy Dakota Homepage - I was bored and made a webpage written from the perspective of my truck. I figured enough people made diaries of cats...might as well be a -little- different.
Member Since: August 9, 2004

Truckville.8k.com - Here you can find pictures of my Dakota, and other members Dakotas.
Member Since: October 10, 2002

Terry's 99 Dodge Dakota R/T - All about about my R/T, the mods I have done, and links to manufacturers and retailers I have dealt with.
Member Since: May 17, 2001
Featured Dodge And RAM Truck Members: Page 1

Page 2

Page 3
Dodge And RAM Truck Connection was updated on: Tuesday, September 25 2018
Sponsored Links: