Mopar Enthusiast Ring Member Profile: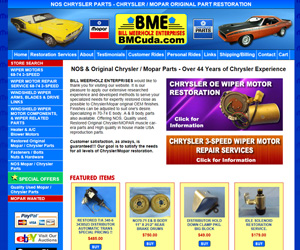 Ring Navigation:

Site Name:

Bill Meerholz Enterprises
Site URL:

https://www.bmcuda.com/
Description:
NOS, restored original, and quality used Chrysler Parts - more than 30 years of Chrysler experience.
Member Since: March 1, 2010
Company Information:
Bill Meerholz Enterprises
114 Mountain Ave.
Pompton Plains, NJ 07444
Phone/Contact: https://www.bmcuda.com/contact.htm
Type Of Products Offered: NOS Parts, Restored Parts, Nice Used Parts and more.
Have a Mopar related web site/page and want to be a member of the Mopar Ring? Visit our join section and submit an application. Membership is free and open to all Mopar related sites, including personal sites, club sites and business sites.
Sponsored Links: