Featured Plymouth Members: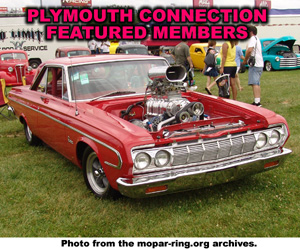 Plymouth Vehicle Enthusiast Sites/Pages:

Plymouth TrailDuster Resources - Site is dedicated to Plymouth TrailDuster owners and enthusiasts. Site features information, Links, Photos and more. Own a Plymouth TrailDuster 4x4 or 4x2? Have it featured on our site!
Member Since: June 22, 2008

Plymouth Zone - Home of Plymouth Vehicle Enthusiasts. A place for Plymouth owners to show off their vehicles and non owners to find out more about the Plymouth brand. Featured Plymouths, Information, Photos, Links and much more.
Member Since: June 22, 2008

Sport Fury GT - This site is dedicated to the Plymouth Sport Fury GT. The site contains pictures and information on these members of the rapid transit system.
Member Since: September 17, 2003

The ModCuda Page - You'll find features of our 1969 Plymouth Barracuda, with original 340 engine and Mod Interior.
Member Since: June 20, 2001
Featured Plymouth Members: Page 1

Page 2
The Plymouth Vehicle Connection was updated on: Saturday, October 20 2018
Sponsored Links: