Home

About The Dodge Challenger Connection

Help

Links

Members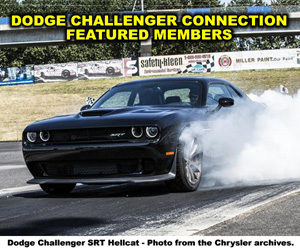 Dodge Challenger Enthusiast Sites/Pages:

 Mopars Of The Month – A monthly collection of featured Chrysler, Dodge, Plymouth and Mopar related vehicles. Including hundreds of Dodge Challengers.
Member Since: May 21, 2001

 My Dodge – Home of Dodge Car Enthusiasts. A place for Dodge car owners to show off their rides and non owners to find out more about Dodge Cars. Site includes featured Dodge Cars, Dodge Information, Dodge Photos, Links and much more.
Member Since: July 8, 2008

 PantherPink.com – A site dedicated to Panther Pink and Moulin Rouge (FM3) Mopars.
Member Since: September 20, 2003