Cruise The Mopar Enthusiast Ring: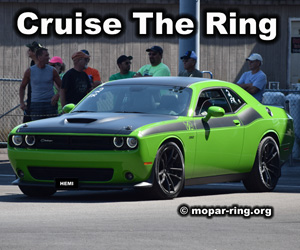 Above: 2017 Dodge Challenger T/A 392 - Photo from Mopar Nationals.
Ring Navigation:
Start your Mopar cruising adventure here, a great way to locate Mopar related web sites and resources on the web. Use the Previous or Next button above to begin. You can also list all members, search members or choose a random member.
Have a Mopar related web site/page and want to be a member of the Mopar Ring? Visit our join section and submit an application. Membership is free and open to all Mopar related sites, including personal sites, club sites and business sites.
Sponsored Links: