Home

About The Dodge Dakota R/T Connection

Help

Links

Members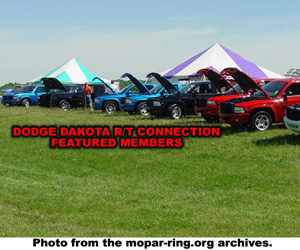 Dodge Dakota R/T Enthusiast Sites/Pages:

 Dodge Dakota R/T Resources – List of resources available on the 440magnum Network related to Dodge Dakota R/T Trucks. Including Dodge Dakota R/T Information, Dodge Dakota R/T Screensavers, Dodge Dakota R/T Wallpapers and more. Own A Dodge Dakota R/T? Your Dodge Dakota R/T could be featured next month..
Member Since: May 11, 2004

 Dodge Dakota Connection – Home of the Dakota connection. Dedicated to Dodge Dakota fans everywhere. Surfing the connection is a great way for Dakota enthusiasts to locate Dakota related sites on the web.
Member Since: October 17, 2001

 Dodge Dakota R/T Zone – Site is dedicated to the limited-edition Dodge Dakota R/T. A place for owner's to show off their R/T's and non owners to find more about these cool trucks.
Member Since: November 13, 2004

 Dodge Truck Connection – The Dodge Truck Connection is a online community dedicated to Dodge Truck owners and enthusiasts worldwide. The connection is a great resource for locating personal Dodge Truck related web sites on the internet.
Member Since: September 13, 2005

 My Mopar Truck – Resources for classic and modern Dodge, Plymouth and RAM truck owners and enthusiasts. Site features Information, Links, Photos, Screensavers, Featured mopar trucks and more.
Member Since: September 3, 2005