Home

About The Dodge Connection

Help

Links

Member List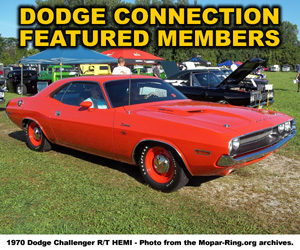 Dodge Enthusiast Sites/Pages:

 The Big Dodge – Site features a 1973 Dodge Polara, history, information, links, Photo gallery and more.
Member Since: September 20, 2007

 The Mitchell & Mitchell 1968 Charger Restoration BLOG – The Mitchell boys completed their award winning 1968 Dodge Coronet R/T in 2008. The new project is a 1968 Dodge Charger.
Member Since: March 30, 2008