Mopar Screensaver Collection:
Home

Bouncing Logo Series

Mopar Or No Car Series

Mopar Or No Truck Series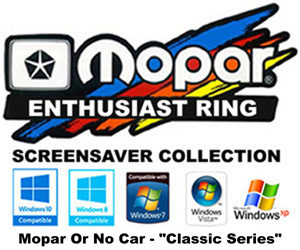 Classic Series – A collection of free Mopar screensavers originally designed for standard resolution monitors. Each version features full screen Mopar related images*. Designed for Microsoft Windows 10, Windows 8, Windows 7, Vista, and Windows XP.
This collection has been tested for quality and contains no adware, no spyware and is virus checked. All screensavers in this series are compatible with both normal and widescreen monitors of all sizes.

Mopar Or No Car Screen Saver 4 – Screensaver features 50 photos including the Hurst HEMI Under Glass Plymouth Barracuda, Dodge Challenger Concept Pro Stock, Dodge Little Red Wagon, Hell On Wheels Wheelstander, Dick Landy Dodge Challenger, Sox & Martin Plymouth Barracuda and more.
Mopar Or No Car Screen Saver 3 – "HEMI Dreams" is a special Edition screensaver containing a collection of HEMI Engine images from past Mopar shows & events. Screensaver features 10 photos including a Street HEMI, Race HEMI and a firepower HEMI.
Mopar Or No Car Screen Saver 2 – Screensaver features 22 photos including a Dodge Ram HEMI GTX, Dodge Charger, Dodge Challenger R/T, Dodge Coronet R/T, Dodge Dart GTS, Dodge Li'l Red Express Truck, Plymouth 383 Barracuda, Plymouth 340 Duster, Plymouth GTX, Plymouth Superbird and more.
Mopar Or No Car Screen Saver 1 – Screensaver features 25 photos including a Dodge Charger R/T, Dodge Challenger R/T, Dodge Dart, Plymouth AAR Cuda', Plymouth Road Runner, Plymouth Superbird and more.
* Full Screen @ 1280×960, 1024×768, 800×600 and 640×480. Larger screen sizes are also supported, but the maximum screen size will remain at 1280×960 with a black background.
Please Note: The Mopar or no car screensavers in this collection were created by mopar-ring.org and are the property of the Mopar Enthusiast Ring. All related files and documentation is Copyright © mopar-ring.org, All rights reserved. All other trademarks or registered trademarks mentioned are the property of their respective owners. These screensavers are free for your personal use at home or work. They may not be posted to other websites or used in any other way without permission from the mopar-ring.org web site. By downloading a mopar screensaver on our site you agree to abide by these terms. This free software is provided "as is" and as all software extreme caution should be used when installing it on your system.