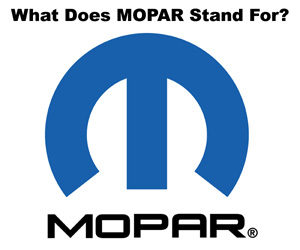 MOPAR is (Short for MOtor PARts).  When Chrysler bought Dodge in 1928, the need for a dedicated parts manufacturer, supplier and distribution system to support the growing enterprise led to the formation of the Chrysler Motor Parts Corporation (CMPC) in 1929.
Originally used in the 1920s, Mopar (a simple contraction of the words MOtor and PARts) was trademarked for a line of antifreeze products in 1937. It was also widely used as a moniker for the CMPC. The Mopar brand made its mark in the 1960s – the muscle car era. The Chrysler Corporation built race-ready Dodge and Plymouth "package cars" equipped with special high-performance parts. Mopar also carried a line of "Special Parts" for super stock drag racers and developed its racing parts division called Mopar Performance Parts to enhance speed and handling for both road and racing use.
Today, the Chrysler Group's Global Service & Parts division is responsible for the manufacturing and distribution of nearly 250,000 authentic Mopar replacement parts, components and accessories for Chrysler, Jeep and Dodge vehicles sold around the world. To assure quality, reliability and durability, all Mopar parts and accessories are designed in strict adherence to Chrysler engineering standards.
Source: Chrysler
What is the Mopar Enthusiast Ring?
The term Mopar is also closely associated with the muscle cars produced by Chrysler, Dodge, and Plymouth during the 60's and into the early 70's. Over the years the word has gained wide usage among car enthusiasts as a reference to anything produced by the Chrysler company. Including the brands Dodge, Chrysler, Plymouth, Imperial or DeSoto and the later adopted brands of AMC and Jeep.
For example, a car club open for any owner of a Chrysler Corporation vehicle might describe itself as a club for "Mopar Enthusiasts." In our case the "Mopar Ring" describes an online owner community of Chrysler Corporation related web sites and pages.