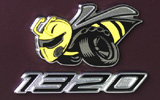 Dodge is accelerating its efforts to champion the achievements of enthusiasts competing in sanctioned quarter-mile drag races with the launch of the all-new 1320 Club. Members of the 1320 Club will have the opportunity to show off their official drag strip accomplishments with pride, and challenge themselves and fellow racers to best their times to earn a top spot on either the Stock or Modified 1320 Club Leaderboard
The 1320 Club lives on Dodge Garage, the brand's digital content hub for racing and car enthusiasts.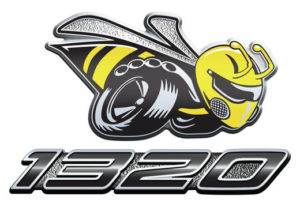 Above: A new interpretation of the legendary Dodge Super Bee logo, the "Angry Bee" marks the fenders of the 2019 Dodge Challenger R/T Scat Pack 1320.
"The 1320 Club provides our Dodge brand enthusiasts with an exclusive online destination to record and share their official quarter-mile achievements within the drag racing community," said Steve Beahm, Head of Passenger Car Brands – Dodge, SRT, Chrysler and FIAT, FCA – North America. "With more Dodge brand enthusiasts than ever wanting to be part of our 'brotherhood of muscle,' the addition of the 1320 Club to the Dodge Garage further expands the ultimate digital content hub where muscle car and race enthusiasts can find the latest on all things Dodge, SRT and Mopar."
The 1320 Club is currently open exclusively to U.S. and Canadian owners of late model Dodge Challengers (2008 – current) and Chargers (2006 – current). All 1320 Club members will have the ability to create a public profile displaying their rides, take the safe racing pledge, comment on entries, submit time slips for review and approval, find the next drag strip to conquer, view the most recent racing news articles and earn digital achievement badges.
Decals of driver's earned achievement badges will be available to purchase to display on their vehicles. Achievement badges and decals will be available in gray for Stock or red for Modified. Stock or Modified badges that can be earned are the following: 1.1/4 mile ET // Ranging from 8.0 to 13.9
2.0-60 ft. time // Ranging from 1.4 to 2.0
3.Top speed // Ranging from 105 to 170
Once a 1320 Club decal is purchased, members will also receive an exclusive 1320 Club hat. #SaveYourSlips and upload them to join the leaderboard ranks for ultimate bragging rights!
Visit DodgeGarage.com for more information!