Home

About the Dodge Charger Connection

Help

Links

Members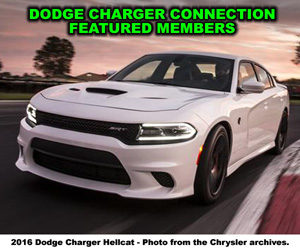 Dodge Charger Enthusiast Sites/Pages:

 1968 Charger R/T – Pictures of my 1968 Dodge Charger R/T project car. Information, Links, Photos and more.
Member Since: March 1, 2005

 440magnum Mopar Enthusiast Network – A large resource of classic and modern Dodge Charger Information. Information on the 1966 – 1967 first generation Dodge Charger, 1971 Dodge Charger Super Bee, Dodge Charger Daytona R/T, Dodge Charger Police Edition, Dodge Charger SRT8, and the Dodge Charger SRT8 Super Bee. Site also features a great collection of Dodge Charger resources including a Directory, Screensavers, Wallpaper and more.
Member Since: April 10, 1999

 Chris' 1969 Dodge Charger R/T Restoration – The restoration story of my 1969 Dodge Charger R/T. Numerous photos and vendor links.
Member Since: May 13, 2001

 Dodge Charger R/T 71 – Site features a 1971 Dodge Charger R/T with information, links, photos and more.
Member Since: May 14, 2001

 Dodge Connection – An online community dedicated to Dodge car owners and enthusiasts worldwide. A great resource for locating Dodge Challenger related web sites on the internet.
Member Since: August 9, 2009