Home

About the Dodge Charger Connection

Help

Links

Members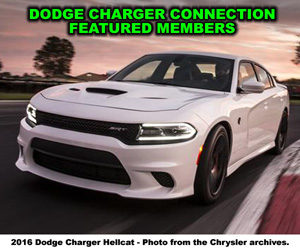 Dodge Charger Enthusiast Sites/Pages:

 Moore's MoPars – Check out the '69 340/727 Barracuda with mod interior, the '67 392 Hemi 5-speed GTX and a 1971 Dodge Charger 500.
Member Since: June 20, 2001

 My Dodge – Home of Dodge Car Enthusiasts. A place for Dodge car owners to show off their rides and non owners to find out more about Dodge Cars. Site includes featured Dodge Cars, Dodge Information, Dodge Photos, Links and much more.
Member Since: July 8, 2008

 My Dodge Charger – Resources for classic and modern Dodge Charger owners and enthusiasts. Site features Information, Links, Photos, Featured Dodge chargers and more.
Member Since: March 8, 2009

 Nick's Garage – A personal site documenting my car hobby and other interests. Including my one-of-one factory Panther Pink 1971 charger R/T.
Member Since: September 5, 2002

 Phil's 1973 Dodge charger Resource – A 1973 Dodge Charger project, with resources and information. Site includes links, photo gallery, fender tag breakdown and history of the car.
Member Since: June 24, 2003

 The Mitchell & Mitchell 1968 Charger Restoration BLOG – The Mitchell boys completed their award winning 1968 Dodge Coronet R/T in 2008. The new project is a 1968 Dodge Charger.
Member Since: March 30, 2008