Home

About The Dodge Dakota R/T Connection

Help

Links

Members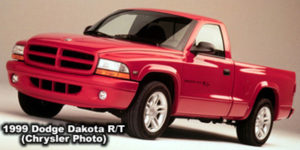 About The Dodge Dakota R/T:
Left: 1999 Dodge Dakota R/T regular cab. The R/T stands for "Road and Track". Photo from the Chrysler archives
1998-2003 Dodge Dakota R/T – Introduced in the spring 1998, a limited edition R/T package was added as an option on the Dakota Sport model. The R/T version is considered to be a true street/sport truck, only available in Rear wheel drive. Factory modifications such as a 250 hp 360 cid/5.9 liter V8, heavy duty 46RE 4 speed automatic transmission, performance axle, limited slip differential, sport suspension and steering, updated brakes, performance exhaust, special cast aluminum wheels, monotone paint, bucket seats, and many other standard options came with the R/T package.
Chrome wheels were also available on 2002 Dakota R/T models. Some of the last models made in 2003 came with the new stampede lower body cladding package and chromed version of the original cast aluminum wheels at no extra charge. This version of the R/T Dakota was produced through 2003, with the newer 2003 R/T trucks designated as their own trimline and no longer as part of an option package on the Dakota Sport trim.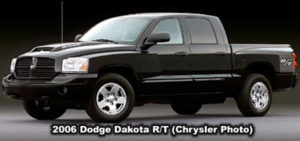 Left: 2006 Dodge Dakota R/T Club Cab Photo Side view. Photo from the Chrysler archives
2006-2007 Dodge Dakota R/T – With the 260-horsepower 4.7-liter High Output V-8 as standard equipment, the new 2006 Dodge Dakota R/T further amplifies the High Output V-8's prodigious power and performance. The Dodge Dakota R/T model is available in Club Cab or Quad Cab body styles and features a unique sport appearance package in Inferno Red, Brilliant Black or Solar Yellow that includes a hood scoop, chrome exhaust tips, R/T cluster, headrest badging, cargo box decal and 17-inch chrome-clad aluminum wheels.