Home

About The Dodge Dart Connection

Help

Links

Members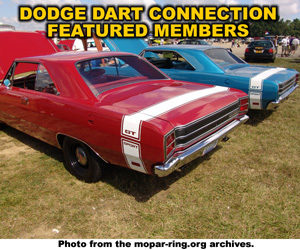 Dodge Dart Enthusiast Sites/Pages:

 440magnum Mopar Enthusiast Network – A large resource of classic and modern Dodge Dart Information. Site also features a great collection of Dodge Dart resources including a Directory, Screensavers, Wallpaper and more.
Member Since: April 10, 1999

 Dodge Connection – An online community dedicated to Dodge car owners and enthusiasts worldwide. A great resource for locating Dodge Dart related web sites on the internet.
Member Since: August 9, 2009

 Dodge Dart 340 Blog – All about my 69 Dodge Dart 340, vintage pics, dragrace, car meetings, bikes and many other things worth blogging. See what happens in mopar Germany, see the restoration of my 69 Dart and the meetings and races I'll visit with this car.
Member Since: October 23, 2009

 Dodge Demon – 1971 saw the addition of a new model to the Dodge dart lineup. Sharing the Plymouth Duster body, the Dodge version was called the Demon.
Member Since: July 9, 2011

 Dodge Demon Resources – Dedicated to Dodge Demon owners and enthusiasts. Site includes featured demons, history, information, specifications, photos, screensavers, wallpaper and more. Own a Dodge Demon? Have it featured on our site.
Member Since: September 5, 2011