Home

About The Dodge Dart Connection

Help

Links

Members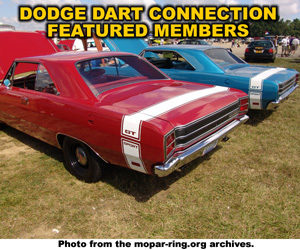 Dodge Dart Enthusiast Sites/Pages:

 My Dodge Dart – Resources for classic and modern Dodge Dart owners and enthusiasts. Site features Information, Links, Photos, Featured Dodge Darts and more.
Member Since: September 10, 2012

 PantherPink.com – A site dedicated to Panther Pink and Moulin Rouge (FM3) Mopars.
Member Since: September 20, 2003

 Rhea's Rad Roddin Homepage – Follow along in my restification of my 66 Dart GT (Twin Turbo'd 360 5 speed road race prepped street car), 65 Dart Convertible (a nice cruiser) and 55 F-100 show truck.
Member Since: June 27, 2001