Home

About The Chrysler Connection

Help

Member List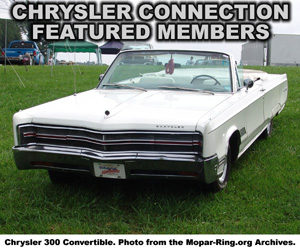 Chrysler Enthusiast Sites/Pages:

 Chrysler 300 1966 – If you want an original, don't come here.
Member Since: August 9, 2009

 Chrysler 300c SRT8 – Information and resources on the HEMI Powered Chrysler 300c SRT8 covering 2005, 2006, 2007, 2008, 2009, 2010 and 2012.
Member Since: February 7, 2006

 Chrysler Fanatic – Home of Chrysler Vehicle Enthusiasts. A place for Chrysler owners to show off their vehicles and non owners to find out more about the Chrysler brand. Featured Chryslers, Chrysler Information, Chrysler Photos, Links and much more.
Member Since: July 5, 2005

 Chrysler Fifth Avenue Website – This site is dedicated to the Chrysler fifth avenue and it's siblings. Contains photo album, forum, specs, info, tech & mechanical info, upgrades, production figures and more.
Member Since: June 25, 2001

 Chrysler Imperial France – This site is devoted to the Imperial and Chrysler 300.
Member Since: May 14, 2001

 Chrysler Resources – List of resources available on the 440magnum Network related to Chrysler vehicles. Including Chrysler Information, Chrysler Screensavers, Chrysler Wallpapers and more. Own A Chrysler? Your Chrysler could be featured next month!
Member Since: February 7, 2006