Home

About The Chrysler Connection

Help

Member List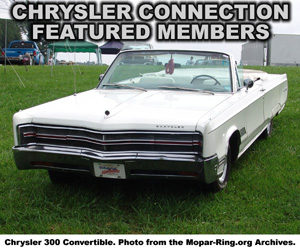 Moore's MoPars – Check out the '69 340/727 Barracuda with mod interior, the '67 392 Hemi 5-speed GTX, the '03 PT Cruiser Turbo and one of the most comprehensive MoPar links pages on the 'Net.
Member Since: June 20, 2001

 The Chrysler300 Site – Site explores the history of the Chrysler 300 from its illustrious beginnings, glorious midlife, ignominious death and unexpected rebirth. Includes photos, technical data and more.
Member Since: May 14, 2001

 Tomi Craft – Check out Cool Cruisers in Japan. We manage PT Cruiser Country Japan, aka PTCC-JPN.
Member Since: May 14, 2001

 Top 25 Chrysler Sites – The Internets Top Chrysler and Mopar related web sites. Vote for your favorite site!
Member Since: August 21, 2010

 Turbine Car User – Site dedicated to the 1963 Chrysler/Ghia turbine cars and my own cars and information.
Member Since: May 13, 2001