Home

About The Chrysler Connection

Help

Member List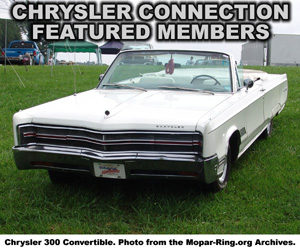 Chrysler Screensavers – Free Mopar screensavers featuring classic and modern chrysler Cars, including Chrysler 300, chrysler Crossfire, chrysler PT Cruiser, chrysler New Yorker, chrysler Newport and more. Download a free Chrysler edition today!
Member Since: February 11, 2006

 Christina's '86 Chrysler LeBaron Convertible – Information and Pictures of my lebaron. I love this car and have done allot to it.
Member Since: July 10, 2003

 Mopar Search: Chrysler Directory – A unique search engine providing results from the internets best Chrysler, Dodge, Dodge Truck, Plymouth, Jeep and mopar related sites and resources.
Member Since: August 9, 2009

 Mopar Works: Chrysler Directory – Sites and pages featuring information and resources on Chrysler Vehicles. Including 300, Cordoba, Fifth Avenue, New Yorker, PT Cruiser and more.
Member Since: August 21, 2010

 Mopars Of The Month – A unique collection of Chrysler, Dodge, Plymouth and Mopar related vehicles submitted by visitors each month. Collection contains hundreds of featured Chryslers.
Member Since: May 21, 2001