Home

About The Mopar Club Connection

Help

Member List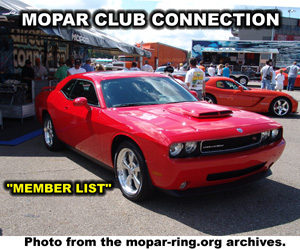 Mopar Toys – An excellent reference site to find toys made of your real mopar! We have over 12,500 unique Mopar toys indexed and inventoried with almost 90,000 reference photos.
Member Since: September 25, 2013

 Mopar Truck Connection – A online community dedicated to Dodge & Ram Brand Truck owners and enthusiasts worldwide. The connection is a great resource for locating personal Dodge & Ram Brand Truck related web sites on the internet.
Member Since: September 28, 2013

 Mopars in Scale – A forum for Model Builders and Diecast Collectors to share images and projects of scale Mopars.
Member Since: February 3, 2009

 Mopars Unlimited of Arizona – Dedicated to the preservation and enjoyment of Mopars – all makes, all years, all conditions. Family Friendly!
Member Since: February 23, 2011