Home

About The Mopar Club Connection

Help

Member List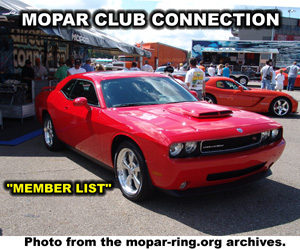 Tri-State Mopar Club – Ohio, Kentucky and Indiana Mopar Enthusiasts. Come join the fun!
Member Since: August 15, 2009

 TVMC – Tennessee Valley Mopar Club – If you're around the Northern Alabama area, then this is the club for you! Join other mopar freaks by checking out our website!
Member Since: November 14, 2007

 Warrior Mopar – Group of mopar enthusiasts that love mopars all while fighting for our country. we are an all veteran owned and operated organization.
Member Since: February 17, 2018

 WPC Club INC – We are a world-wide, non-profit organization dedicated to the preservation, restoration, and enjoyment of Chrysler Products, namely Plymouth, Dodge, DeSoto, Chrysler, Imperial, Jeep, Eagle and related vehicles.
Member Since: November 16, 2007

 Wyoming Mighty MOPARS – MOPAR Club based in Cheyenne, Wyoming for owners and enthusiasts. Open to anyone with shared interest in Dodge, Chrysler, Plymouth and related automobiles.
Member Since: April 23, 2008