Home

About The Mopar Club Connection

Help

Member List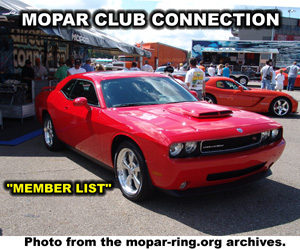 Northeast Hemi Owners Association – Although we do have Hemi in our name, we are not for Hemis only. We are a club for all Mopar performance enthusiasts and their families.
Member Since: August 4, 2004

 Okanagan Mopars – We are dedicated to the restoration and preservation of all Chrysler related products, with an emphasis on family participation. Located in the Okanagan Valley B.C.Canada.
Member Since: May 22, 2010

 Pa. Modern Mopar Group – 1998 to present all models of Chrysler, Dodge and Jeep vehicles, monthly cruise in's, sponsored annual car show, many meet and greets.
Member Since: July 8, 2015

 Pennsylvania Pentastars Car Club – Car club for Mopar enthusiasts in Northeast Pennsylvania.
Member Since: August 13, 2009

 Piedmont Mopar Club – Family oriented Mopar Club in central North Carolina. Our Fun Run now in it's 26th year – show cars, drag cars, vendors and lots of fans.
Member Since: November 13, 2011

 Plymouth Connection – A online community dedicated to Plymouth vehicle owners and enthusiasts worldwide. The connection is a great resource for locating personal Plymouth vehicle related web sites on the internet.
Member Since: September 28, 2013