Home

About The Dodge Dakota Connection

Help

Links

Members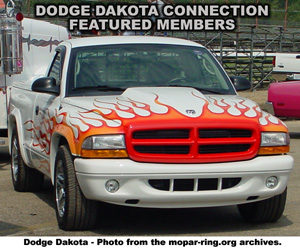 Dodge Dakota Enthusiast Sites/Pages:

 Dodge Dakota R/T Zone – Site is dedicated to the limited-edition Dodge Dakota R/T. A place for owner's to show off their R/T's and non owners to find more about these cool trucks.
Member Since: November 13, 2004

 Dodge Truck Connection – The Dodge Truck Connection is a online community dedicated to Dodge Truck owners and enthusiasts worldwide. The connection is a great resource for locating personal Dodge Truck related web sites on the internet.
Member Since: September 13, 2005

 Jon's 1996 Dodge Dakota – Just a simple page with some pics and info about my 1996 Dakota.
Member Since: November 4, 2002

 My Mopar Truck – Resources for classic and modern Dodge, Plymouth and RAM truck owners and enthusiasts. Site features Information, Links, Photos, Screensavers, Featured mopar trucks and more.
Member Since: September 3, 2005

 Site WEB de Denis Bisson / Dennis Bisson's Web page – Well… Nothing really excited. Simply the history why and how I bought it… Some pictures like the one after we came back from Mount Washington.
Member Since: February 7, 2004