Home

About The Mopar Truck Connection

Help

Links

Members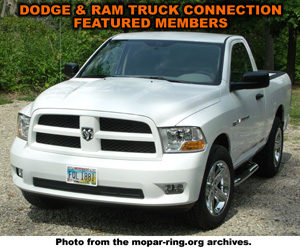 Dodge And RAM Truck Enthusiast Sites/Pages:

 Dodge Truck Screensavers – Screensavers featuring classic and modern Dodge Trucks, including Dodge A100, Dodge Dakota, Dodge Dakota R/T, Dodge Ram, Dodge Ram HEMI GTX, Dodge Ram SRT10, Dodge Li'l Red Express and more.
Member Since: February 11, 2006

 Jon's 1996 Dodge Dakota – Just a simple page with some pics and info about my 1996 Dakota.
Member Since: November 4, 2002

 MachoPowerWagon.com – The home of Dodge 4×4 adult toys!
Member Since: September 3, 2005

 My Mopar Truck – Resources for classic and modern Dodge, Plymouth and RAM truck owners and enthusiasts. Site features Information, Links, Photos, Screensavers, Featured mopar trucks and more.
Member Since: September 3, 2005