Home

About The Mopar Truck Connection

Help

Links

Members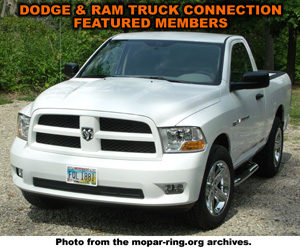 Dodge And RAM Truck Enthusiast Sites/Pages:

 1957 Dodge Truck – Personal website featuring my 1957 D100 truck with mild modifications. 10 year personal project.
Member Since: November 1, 2011

 1989 Dodge Dakota Convertible – My 1989 Dodge Dakota convertible and others in white, red and black.
Member Since: December 23, 2003

 Bobalooey's Second Pathetic attempt at a webpage – A little look at my life, my money pits (my house and Dakota), and my Chihuauas..
Member Since: May 11, 2001

 Darkman's Dakota – My 2000 Dodge Dakota 3.9L.
Member Since: November 13, 2002

 Dodge Truck Connection – The Dodge Truck Connection is a online community dedicated to Dodge Truck owners and enthusiasts worldwide. The connection is a great resource for locating personal Dodge Truck related web sites on the internet.
Member Since: September 13, 2005