Mopar Enthusiast Ring Information Center: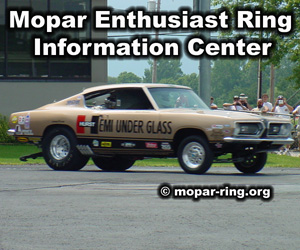 Above: Hurst HEMI Under Glass Barracuda from 2003 Mopar Nats, photo from the mopar-ring.org archives.
Founded in late 1996, the Mopar Enthusiast Ring is the oldest and largest automotive enthusiast ring on the internet. Built to promote Chrysler, DeSoto, Dodge, Dodge Truck, Imperial, Plymouth, RAM sites and pages including the adopted brands AMC, Jeep, Eagle etc. For visitors the ring is a great way to locate web sites containing clubs, information, parts, organizations, services and Mopar related resources.

Home Page - The home page features complete information on our site including its features and resources.

About The Ring - Everything you ever wanted to know about the Mopar Enthusiast Ring including a short history.

Cruise The Ring - You can start your Mopar cruising adventure here, options include: List all member sites, join ring, next member, previous member, random member and search members. You can also use the navigation bar example below to start!
The Ring Navigation Bar:
The ring navigation bar is simple to use, it is located on all members profile pages. It is possible to visit each member in the ring eventually ending back at your starting point. Find a site that interests you and click the visit site button.

Help - Question not answered? Or need to contact the Mopar Ring concerning a feature or a problem viewing our site? Our help section features a list of frequently asked questions.

Join Us - If you have a Mopar related web site or page, you can be a member of the Mopar Ring. Joining the Mopar Ring is totally free and is a great way to get more people to visit your site.

List All Members - Visit here for a complete list of the members in the Mopar Ring. Including Clubs sites, Business sites and personal Mopar related sites and pages.

List Club/Organization Members - Looking for a Mopar related Club or Organization on the web. Check out our Mopar Club members site list.

List Parts/Services Members - Looking for business site offering parts or services for your Mopar related vehicle. Check out the business members site list.

Search The Ring - Can't find the information you are looking for on our site? Use the Mopar Ring search engines to help you find what you are looking for.
Sponsored Links: