Mopar Enthusiast Ring Member Profile: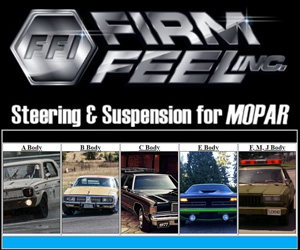 Ring Navigation:

Site Name:

Firm Feel Inc.
Site URL:

http://www.firmfeel.com/
Description:
Steering & suspension for 60's & 70's Mopars, rebuilt steering boxes, pumps, sway bars, tubular upper control arms, carbon metallic brakes, call for more items.
Member Since: July 8, 2015
Company Information:
Firm Feel Inc.
2730 NW Bliss Road - Vancouver, WA USA 98685
Phone: 1-800-FIRM426 (347-6426) Fax: 1-360-574-6426
Hours : 8-5 PST Daily, Closed Saturday and Sunday
Type Of Products Offered:
Firm Feel rebuilds mopar chrysler plymouth and dodge stock steering gear boxes with fast ratio and reinforces k frames as well as lower control arms and sell parts for suspension custom torsion bars and front rear anti sway bars.
Have a Mopar related web site/page and want to be a member of the Mopar Ring? Visit our join section and submit an application. Membership is free and open to all Mopar related sites, including personal sites, club sites and business sites.
Sponsored Links: