Mopar Enthusiast Ring Member Profile: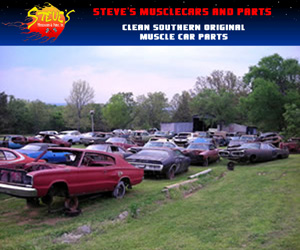 Ring Navigation:

Site Name:

Steve's Musclecars & Parts, Inc.
Site URL:

http://www.stevesparts.com/
Description:
At Steve's Musclecars & Parts our goal is to provide clean, Southern used and NOS Mopar parts to both automotive enthusiasts and restoration shops alike. We make sure to provide our customers with friendly and professional service as well as very prompt shipping with expert packaging. We are a classis car salvage facility that specializes in 60 - 76 Mopar A B C E Body cars and parts. We also have a large inventory of loose parts removed and stored.
Member Since: November 24, 2010
Company Information:
Steve's Musclecars & Parts, Inc.
3107 N. Mountain Grove Road
Alma, AR 72921
Phone: (479) 632-0011
Type Of Products Offered:
Mopar A Body Parts, Mopar B Body Parts, Mopar E Body Parts, Mopar C Body Parts, Mopar F Body Parts
Have a Mopar related web site/page and want to be a member of the Mopar Ring? Visit our join section and submit an application. Membership is free and open to all Mopar related sites, including personal sites, club sites and business sites.
Sponsored Links: