Mopar Enthusiast Ring Member Profile: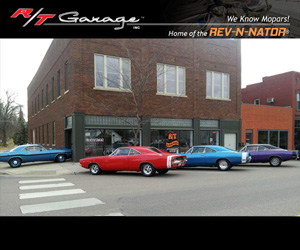 Ring Navigation:

Site Name:

The R/T Garage
Site URL:

http://www.thertgarage.com/
Description:
Mopar concourse restoration, Mopar performance or protouring. mopar parts and service. The home of the rev-n-nator ignition-true plug and bolt in factory appearing I.C.M. with digital and analog technology together with built in rev limiter.
Member Since: February 22, 2011
Company Information:
The R/T Garage
20096 Erin Ave.
Prior Lake, MN 55372
Phone/Contact: http://www.thertgarage.com/contact.html
Type Of Products Offered: Mopar Restoration, Mopar Performance, Rev-n-nator ignition, Cars for Sale, Parts
Have a Mopar related web site/page and want to be a member of the Mopar Ring? Visit our join section and submit an application. Membership is free and open to all Mopar related sites, including personal sites, club sites and business sites.
Sponsored Links: