Mopar Enthusiast Ring Member Profile: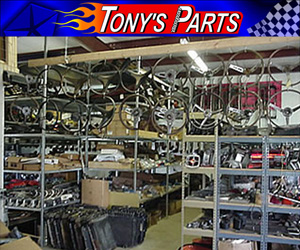 Ring Navigation:

Site Name:

Tony's Parts
Site URL:

https://www.tonysparts.com
Description:
Tony's Parts is a Mopar-only dealer of new old stock (NOS) and used parts for Mopar cars from the muscle car-era. We also manufacture a select number of high quality reproduction parts to substitute for hard to find NOS or used Mopar parts. We occasionally offer cars for sale, typically requiring some degree of restoration. Services offered include decoding of Chrysler product vehicles, validation of vehicle authenticity, and vehicle appraisals.
Member Since: August 26, 2003
Company Information:
Tony's Parts
96 Red Bird Lane
Harrington, DE 19952
Phone/Contact: 1-302-398-0821 (Mon-Fri 9AM-5PM EST)
Have a Mopar related web site/page and want to be a member of the Mopar Ring? Visit our join section and submit an application. Membership is free and open to all Mopar related sites, including personal sites, club sites and business sites.
Sponsored Links: