Mopar Enthusiast Ring Member Profile: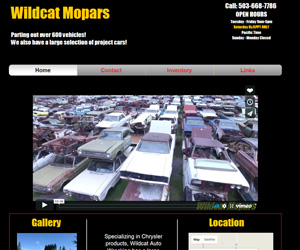 Ring Navigation:

Site Name:

Wildcat Auto Wrecking
Site URL:

https://www.wildcatmopars.com/
Description:
We are the largest all Mopar wrecking yard in the northwest parting out over 800 '79 and earlier Dodge, Plymouth, Chrysler and DeSoto vehicles. We also have quite a few project vehicles for sale.
Member Since: October 28, 2008
Company Information:
Wildcat Auto Wrecking
46827 S.E. Wildcat Mtn. Dr.
Sandy, Oregon 97055
Phone/Contact: (503) 668-7786
Type Of Products Offered: Parting out over 800 cars, 200 plus project vehicles, Used Parts and more.
Have a Mopar related web site/page and want to be a member of the Mopar Ring? Visit our join section and submit an application. Membership is free and open to all Mopar related sites, including personal sites, club sites and business sites.
Sponsored Links: