Mopar Enthusiast Ring Member Profile: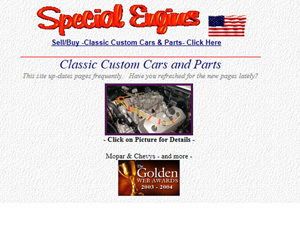 Ring Navigation:

Site Name:

Special Engines
Site URL:

http://specialengines.com/
Description:
Internet Business offering New and Used Cars and Parts - With Special Interest in Classic Mopar and Chevy Cars - Featuring JayzFury 426 Hemi C-Body Project Car. - 1965 Ply. Sport Fury - Auctions, Free Ads and Free Trial Auto Magazines.
Member Since: May 13, 2001
Company Information:
Specialengines.com
Phone/Contact: See Member Site...
Type Of Products Offered: New Parts, Used Parts, Cars For Sale and more.
Have a Mopar related web site/page and want to be a member of the Mopar Ring? Visit our join section and submit an application. Membership is free and open to all Mopar related sites, including personal sites, club sites and business sites.
Sponsored Links: