Mopar Enthusiast Ring Member Profile: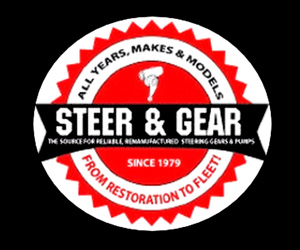 Ring Navigation:

Site Name:

Steer & Gear
Site URL:

http://www.steerandgear.com/
Description:
Steer and Gear is your only source for custom remanufactured steering units - power and manual - for all makes, models, and years. A family-run business with more that 30 years experience. Our workmanship surpasses the industry standards. Chrysler - Mopar, light trucks, heavy trucks, historical, recreational, construction/industrial.
Member Since: March 25, 2009
Company Information:
Steer & Gear
1000 Barnett Road
Columbus, Ohio 43227
Phone/Contact: http://www.steerandgear.com/SteerandGear/Lets_Talk.html
Type Of Products Offered: Power and Manual Steering, Gears and Pumps, Rack & Pinions, Flow Control Valves, Power Cylinders and more.
Have a Mopar related web site/page and want to be a member of the Mopar Ring? Visit our join section and submit an application. Membership is free and open to all Mopar related sites, including personal sites, club sites and business sites.
Sponsored Links: