Mopar Enthusiast Ring Member Profile: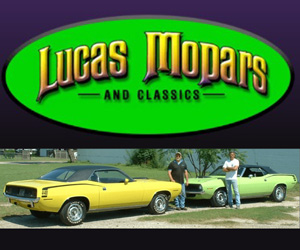 Ring Navigation:

Site Name:

Lucas Mopars
Site URL:

http://www.lucasmopars.net/
Description:
Mopars and classics in original, restored, or project car condition - parts for mopars.
Member Since: July 8, 2015
Company Information:
lucasmopars.net
604 South Esplanade, Cuero TX - 77954
Phone: 1-(361) 275-9977 or 1-(361) 319-0230
Type Of Products Offered:
Mopars and classic vehicles and Mopar parts for sale.
Have a Mopar related web site/page and want to be a member of the Mopar Ring? Visit our join section and submit an application. Membership is free and open to all Mopar related sites, including personal sites, club sites and business sites.
Sponsored Links: