Mopar Enthusiast Ring Member Profile: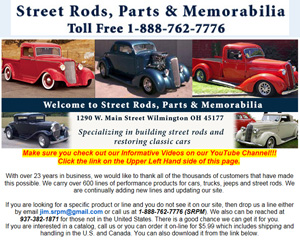 Ring Navigation:

Site Name:

Street Rods, Parts & Memorabilia
Site URL:

http://www.srpmstreetrods.com/
Description:
We manufacture reproduction parts for early Mopar 1932-1948 cars and trucks. We make steel repair panels, fiberglass fender, and numerous other body parts. We also manufacture replacement frame for the same years cars and trucks with new suspension and up to the state parts. We sell engines and transmission and accessories for use in early street rod and trucks, including early and late Hemi engines. We also have hundreds of gauges and instrument panels , glove boxes and other restoration parts.
Member Since: August 12, 2010
Company Information:
Street Rods, Parts & Memorabilia
1290 W. Main Street
Wilmington, OH 45177
Phone/Contact: Phone: 1-888-762-7776 E-mail: jim.srpm@gmail.com
Type Of Products Offered: 1933 Dodge Pickup Truck and beds, 1936 Plymouth 5 Window Coupe, 1932-48 Mopar frames, Steel repair panels for early Mopars, Fiberglass fenders, RB's, Grill shells & Inserts and more.
Have a Mopar related web site/page and want to be a member of the Mopar Ring? Visit our join section and submit an application. Membership is free and open to all Mopar related sites, including personal sites, club sites and business sites.
Sponsored Links: