Mopar Enthusiast Ring Member Profile: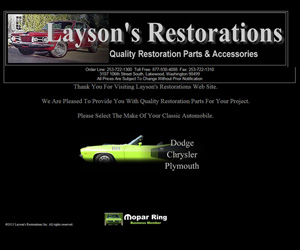 Ring Navigation:

Site Name:

Layson's Restorations Inc.
Site URL:

https://www.laysons.com/
Description:
New classic car reproduction parts, used parts out of our wrecking yard, new old stock parts as well as technical advise from experts that have worked on mopars for years. we also offer services from plastic chrome restoration, dash pads, steering wheels, heater boxes, drivelines, wiper motors, gauge repair and refacing, speaker reconditioning, radio repair or conversions, power brake boosters, door hinges, hood hinges, power steering pumps, and much, much more.
Member Since: February 2, 2010
Company Information:
Layson's Restorations Inc.
3107 106th Street South
Lakewood, Washington 98499
Phone/Contact: http://www.laysons.com/Inquiry.cfm
Type Of Products Offered:Plastic Chrome Service, Tailight Lenses & Bezels, Body Side Mouldings, Sheetmetal parts, Complete Interiors and more.
Have a Mopar related web site/page and want to be a member of the Mopar Ring? Visit our join section and submit an application. Membership is free and open to all Mopar related sites, including personal sites, club sites and business sites.
Sponsored Links: