Mopar Enthusiast Ring Member Profile: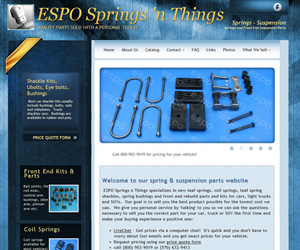 Ring Navigation:

Site Name:

ESPO Springs n Things
Site URL:

https://www.springsnthings.com/
Description:
ESPO Springs n Things specializes in new leaf springs, coil springs, leaf spring shackles, spring bushings and front end rebuild parts and kits. Our goal is to sell you the best product possible for the lowest cost we can. We give you personal service by 'talking' to you so we can ask the questions necessary to sell you the correct part for your car, truck or SUV the first time and make your buying experience a positive one.
Member Since: January 16, 2014
Company Information:
ESPO Springs n Things
75 Pine Tree Rd
Danville, PA 17821 USA
Phone/Contact: https://www.springsnthings.com/contact.htm
Type Of Products Offered:Leaf Springs, Shackle Kits, Front End Kits, Ball Joints, Bushings and more.
Have a Mopar related web site/page and want to be a member of the Mopar Ring? Visit our join section and submit an application. Membership is free and open to all Mopar related sites, including personal sites, club sites and business sites.
Sponsored Links: