Mopar Enthusiast Ring Member Profile: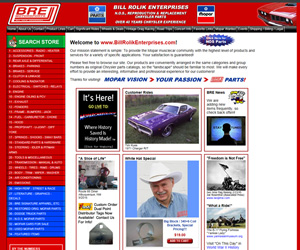 Ring Navigation:

Site Name:

Bill Rolik Enterprises
Site URL:

http://www.billrolikenterprises.com/
Description:
34 categories of NOS, reproduction and replacement Mopar parts, plus BRE Signature Apparel and special website features! Also, expertly refinished original Mopar parts as well!
Member Since: October 31, 2008
Company Information:
Bill Rolik Enterprises
P.O. Box 237
Hasbrouck Heights, NJ 07604
Phone/Contact: http://www.billrolikenterprises.com/contact.asp
Type Of Products Offered:Air Filter Elements 340+6/440+6, Engine Fastener Packages, U-Joints, Front Suspension Rebuild Packages, Leaf Spring Shackle Packages, Motor Mount & Hardware Packages, Transmission Mounts & Hardware, Oil Pumps, Roller Timing Chain/Gear Sets, Literature, Graphics and Decals and more.
Have a Mopar related web site/page and want to be a member of the Mopar Ring? Visit our join section and submit an application. Membership is free and open to all Mopar related sites, including personal sites, club sites and business sites.
Sponsored Links: