Mopar Enthusiast Ring Member Profile: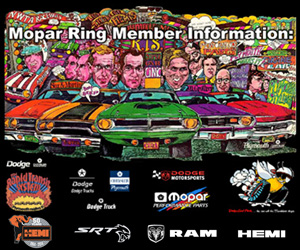 Ring Navigation:

Site Name:

Chrysler 300 SRT Resources
Site URL:

https://www.chrysler300csrt8.com/
Description:
Introduced in 2005, the Chrysler 300C SRT8 was the first Street and Racing Technology (SRT) vehicle to be powered with the 6.1-liter HEMI V-8. Site features information, photos, links and more.
Have a Mopar related web site/page and want to be a member of the Mopar Ring? Visit our join section and submit an application. Membership is free and open to all Mopar related sites, including personal sites, club sites and business sites.
Sponsored Links: