Home

About The Mopar Parts And Services Connection

Help

Member List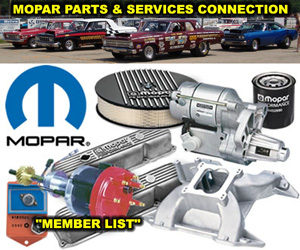 Member Sites/Pages:

 ABC Moparts – We have dash pads for A B C and E body Mopars (steel core) and a extensive line of arm rest pads and an ever expanding product line.

 Bill Rolik Enterprises – 34 categories of NOS, reproduction and replacement Mopar parts, plus BRE Signature Apparel and special website features! Also, expertly refinished original Mopar parts as well!
Member Since: October 31, 2008

 Clark Classic Restortions – Professional, detailed classic car restorations.
Member Since: May 26, 2004

 Classic Truck Consoles – Design and manufacture of fiberglass center consoles for muscle cars and trucks.
Member Since: July 8, 2015

 CruiserMotorSports – We offer a one stop PT Cruiser aftermarket accessories and Care Car Products that supersede all others.
Member Since: April 9, 2003

 DodgeBoys.net – Mopar resource site for info and a few parts for sale, mostly just lots of Tech info, wiring diagrams, parts diagrams.
Member Since: January 13, 2021