Home

About The Mopar Parts And Services Connection

Help

Member List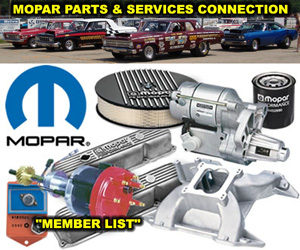 Member Sites/Pages:

 Bill Meerholz Enterprises – Bill Meerholz Enterprises applies our extensive experience to serve your specialized needs for expertly refinished, restored, NOS and selected used musclecar-era Chrysler/Mopar parts! Customer satisfaction, as always, is guaranteed!
Member Since: March 9, 2010

 Bill Rolik Enterprises – 34 categories of NOS, reproduction and replacement Mopar parts, plus BRE Signature Apparel and special website features! Also, expertly refinished original Mopar parts as well!
Member Since: October 31, 2008

 Clark Classic Restortions – Professional, detailed classic car restorations.
Member Since: May 26, 2004

 Classic Truck Consoles – Design and manufacture of fiberglass center consoles for muscle cars and trucks.
Member Since: July 8, 2015

 CruiserMotorSports – We offer a one stop PT Cruiser aftermarket accessories and Care Car Products that supersede all others.
Member Since: April 9, 2003