Home

About The Mopar Parts And Services Connection

Help

Member List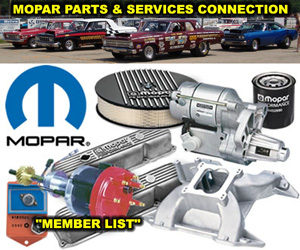 Member Sites/Pages:

 Layson's Restorations Inc. – New classic car reproduction parts, used parts out of our wrecking yard, new old stock parts as well as technical advise from experts that have worked on mopars for years. we also offer services from plastic chrome restoration, dash pads, steering wheels, heater boxes, drivelines, wiper motors, gauge repair and refacing, speaker reconditioning, radio repair or conversions, power brake boosters, door hinges, hood hinges, power steering pumps, and much, much more.
Member Since: March 11, 2014

 Lucas Mopars – Mopars and classics in original, restored, or project car condition – parts for mopars.
Member Since: October 3, 2006

 Midwest Hot Rods & Muscle Cars – Your source for quality reproduction Mopar Dodge Plymouth muscle car parts and accessories at the lowest price.
Member Since: January 28, 2007

 Plumbeeper Rimblow Restorations – Woodgrain steering wheel concourse OEM restoration and parts for all Mopar steering wheels. Rimblow A B and E body wood grain steering wheels for sale.
Member Since: July 10, 2009

 SMR Transmissions and Converters – SRM TRANSMISSIONS and CONVERTERS specializes in custom built transmissions, converters, adapters, overdrive conversions and related components for Chrysler, Dodge, Plymouth and AMC only,for cars and trucks for restoration, muscle car,competition, off-road,fuel economy, cruising,racing and special purpose vehicle use.
Member Since: October 28, 2010

 Special Engines – Internet Business offering New and Used Cars and Parts – With Special Interest in Classic Mopar and Chevy Cars – Featuring JayzFury 426 Hemi C-Body Project Car. – 1965 Ply. Sport Fury – Auctions, Free Ads and Free Trial Auto Magazines.
Member Since: May 13, 2001