Home

About The Mopar Parts And Services Connection

Help

Member List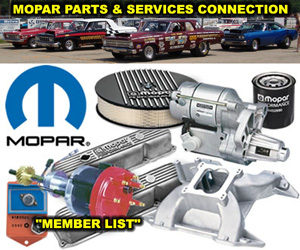 Member Sites/Pages:

 DynaTech Engineering – Dynatech Engineering builds Lifetime Warranted muscle car motor mounts, Mitymounts for high performance muscle cars.
Member Since: September 17, 2002

 ESPO Springs n Things – ESPO Springs n Things specializes in new leaf springs, coil springs, leaf spring shackles, spring bushings and front end rebuild parts and kits. Our goal is to sell you the best product possible for the lowest cost we can. We give you personal service by 'talking' to you so we can ask the questions necessary to sell you the correct part for your car, truck or SUV the first time and make your buying experience a positive one.
Member Since: February 3, 2010

 Firm Feel Inc. – Steering & suspension for 60's & 70's Mopars, rebuilt steering boxes, pumps, sway bars, tubular upper control arms, carbon metallic brakes, call for more items.
Member Since: May 6, 2004

 Impulse Engine Technology P/L – Impulse Engine Technology P/L manufactures Negative Supercharging Kits for 318 340 360 Chrysler small blocks and hi-performance parts for Chrysler slant 6 and V8 engines.
Member Since: April 25, 2003

 Jeff's Charger Restoration Services – Specializing in 66/67 Charger Instrument Cluster, Power Pack, Reproduction Power Packs and Medallion restoration. Also can rewind A,B,E body gauges.
Member Since: January 13, 2009

 Lakeland Auto Parts – Lakeland Auto Parts has been in business since 1969, Our growth and leadership in the automotive aftermarket is built on providing quality service and quality parts. Lakeland Auto Parts is direct with Mopar and can get genuine Mopar replacement parts along with Mopar Performance as well.
Member Since: February 10, 2021