Home

About The Mopar Parts And Services Connection

Help

Member List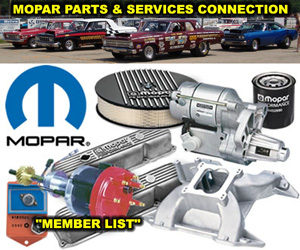 Member Sites/Pages:

 Steer & Gear, Inc. – Steer and Gear is your only source for custom remanufactured steering units – power and manual – for all makes, models, and years. A family-run business with more that 30 years experience. Our workmanship surpasses the industry standards. Chrysler – Mopar, light trucks, heavy trucks, historical, recreational, construction/industrial.
Member Since: March 25, 2009

 Street Rods, Parts & Memorabilia – We manufacture reproduction parts for early Mopar 1932-1948 cars and trucks. We make steel repair panels, fiberglass fender, and numerous other body parts. We also manufacture replacement frame for the same years cars and trucks with new suspension and up to the state parts. We sell engines and transmission and accessories for use in early street rod and trucks, including early and late Hemi engines. We also have hundreds of gauges and instrument panels , glove boxes and other restoration parts.
Member Since: August 20, 2010

 Steve's Musclecars & Parts, Inc. – At Steve's Musclecars & Parts our goal is to provide clean, Southern used and NOS Mopar parts to both automotive enthusiasts and restoration shops alike. We make sure to provide our customers with friendly and professional service as well as very prompt shipping with expert packaging. We are a classis car salvage facility that specilizes in 60 – 76 Mopar A B C E Body cars and parts. We also have a large inventory of loose parts removed and stored.
Member Since: November 24, 2010

 Sweptline Parts – Your personal parts resource for 1961-1971 Dodge Sweptline Truck Parts. New Parts, Large Inventory of used Parts and hard to find options, reconditioning services and more.
Member Since: July 10, 2011