Home

About The Mopar Parts And Services Connection

Help

Member List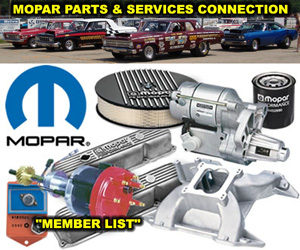 Member Sites/Pages:

 The R/T Garage – Mopar concourse restoration, Mopar performance or protouring. mopar parts and service. The home of the rev-n-nator ignition-true plug and bolt in factory appearing I.C.M. with digital and analog technology together with built in rev limiter!
Member Since: February 23, 2011

 Tony's Parts – A Mopar-only dealer of hard to find NOS, used, and reproduction parts; and nice used Mopar cars from the muscle car-era.
Member Since: August 26, 2003

 Winged Warrior Body Parts by Janak Repros – Specializing in Quality Winged Car Reproduction Body Parts since 1978. Exclusively for the 1969 Dodge Charger Daytona and the 1970 Plymouth Roadrunner Superbird.
Member Since: January 15, 2003

 Wildcat Auto Wrecking – We are an all mopar wrecking yard specializing in 1979 and earlier Dodge, Plymouth, Chrysler, DeSoto, parting out over 800 cars and 200 project vehicles.
Member Since: March 25, 2009